This was the previous Featured Article! Thank you for formerly working on this, and ~Leafy~ has been made proud!
Samurott

Samurott's trading card
Affiliations
Current Home:
Home
Past Home(s):
None
Type
Type:
Gender
Gender:

♂

Age
Age:
35 years old
Personality
Personality:
Kind, sometimes shy, though mostly brave and confident
Mate, Offspring, Friends, and Siblings
Mate:
Serperior
Offspring:
Buneary
Friend(s):
Swampert, Empoleon, Emolga, Feraligatr, Zorua, Simisear, Simisage, Simipour, many others
Sibling(s):
None
Favorites
Favorite Food:
Tiny cupcakes with vanilla frosting
Favorite Toy:
Anything
Role-play
Role-player:
~Leafy~
Samurott is the final form of the the Water Type starter Pokemon Oshawott for the Unova region. Samurott, in this case, is a male Pokemon.
As an Oshawott
Edit
Oshawott is great friends with Snivy. He has harbored romantic feelings for her, and she has for him, too. He was a rival with Tepig, before he got killed by taking it way too far. They always fought over Snivy, and she would often have to calm them down.
Oshawott and Snivy have revealed their feelings for each other, and they are dating. After getting badly wounded by Tepig, Oshawott, along with Piplup, was taken to the Pokemon Center. Oshawott has been getting along well, his wounds are healing thanks to Panpour and Pansage.
Oshawott and Snivy got arrested for stealing Squirtle's and Cyndaquil's doughnuts. They later got kicked out of Jail, though, by disturbing the police guards.
Oshawott and Snivy later get married and have an egg together, which hatches into a Buneary.
As a Dewott
Edit
Oshawott evolved into Dewott during a robbery along with Snivy, Piplup, Mudkip, and Totodile. This made him and the others much stronger and they managed to defeat the robbers.
When they return Home, he and the parents are worried sick, as their daughters are on the verge of giving birth.
Later, Dewott is seen along with Servine, Prinplup, Marshtomp, Croconaw, and Emolga at the battle with Zoroark, and he and the others are protecting Lillipup and Pidove from a Druddigon that is about to crush them.
He is later seen snapping at Servine and Prinplup for being idiotic. Even later, when the world is said to be soon coming to an end, Servine insists that she, Dewott, Prinplup, Croconaw, Marshtomp, and Emolga go on a journey to the Crystal Palace to save the world. They all agree.
As a Samurott
Edit
Dewott evolved into Samurott along with Servine, Prinplup, Marshtomp, and Croconaw on the Icy Mountain, due to the fact they were being attacked by wild and for some reason enraged Beartic. However, Serperior chases them off with her Attract, but unfortunately it had infatuated Samurott, Feraligatr, and Swampert, too.
The six continue their journey. After all their harsh arguments, they finally make it to the Crystal Palace.
As an Oshawott
Edit
Official Artwork
Edit
In-game Sprite(s)
Edit

Trading Card
Edit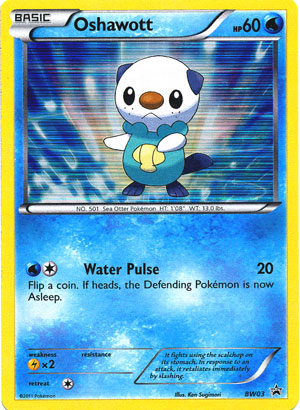 As a Dewott
Edit
Official Artwork
Edit
In-game Sprite(s)
Edit

Trading Card
Edit
As a Samurott
Edit
Official Artwork
Edit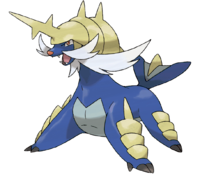 In-game Sprite(s)
Edit

Trading Card
Edit