Lugia
40px

Affiliations
Current Home:
Roaming
Past Home(s):
Whirl Islands, Still Roaming
Type
Type:
Psychic/Flying
Gender
Gender:
Female
Age
Age:
15
Personality
Personality:
Spirited, Brave
Mate, Offspring, Friends, and Siblings
Mate:
None
Offspring:
None
Friend(s):
Ho-Oh
Sibling(s):
A few Lugias, all dead
Favorites
Favorite Food:
None
Favorite Toy:
None
Role-play
Role-player:
WolfStar
Lugia is a legendary pokemon that resides at the whirl islands. Like most legendarys on this wiki, This lugia has a gender, being a female.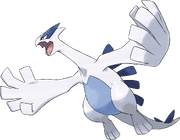 Lugia arrives at home and has some agerments with
Ho-Oh
.
Lugia's tips of her wings are light blue, unlike a normal Lugia