Flash is a female Zorork and is N's pokemon. She is a big music fan and shows a hate for mates.
Flash (Zoroark)


Affiliations
Current Home:
No Home
Past Home(s):
N's Castle
Type
Type:
Dark
Gender
Gender:
Female
Age
Age:
17
Personality
Personality:
Brave
Mate, Offspring, Friends, and Siblings
Mate:
None
Offspring:
Curse(Found and raised)
Friend(s):
Curse, Legend, Axey and Freeze
Sibling(s):
None Know
Favorites
Favorite Food:
Anything Junky
Favorite Toy:
Rubix Cube
Role-play
Role-player:
WolfStar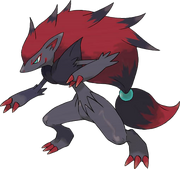 She hasn't appeared yet but will when I get atcive XD
She is based off the Zorua Rood gives you and Black & White 2 because it was N's Zorua. But her gender is diffrent.
Unlike most Zororks, she is super human like and can speak egligsh, play turn-tables, use wepoans. She's gone as far as riding a Rapidash.
She runs on 4 legs.